There are very few things which can compare to the beauty that of the Nottingham caves. They are very well known for their exceptional sandstone caves which have made throughout the centuries.
One of these caves, owned by Thomas Herbert, a lace maker, has been called the Victorian Folly because of the huge carving on its back wall of Daniel with six lions from the bible. The rest of the cave has also been intricately carved with a number of arches, pillars, staircases, buttresses, windows, ornamental animals, etc.
In the Second World War, more than 80 of these cases were used as shelters for air raids. There are a number of ancient caves which were opened up and then connected with some newly dug passages and new shelters were also excavated, including a lot of space beneath the cigarette factory of Player's which could hold as many as 9000 people. Most of the sand which had been excavated at the time of these operations were filled in sandbags and used for the war bunkers both locally as well as abroad. It was only later discovered that there was a cave below the Nottingham castle which had been used secretly for radon and radium extraction at the time of the war too. This prompted a lot of local outcry.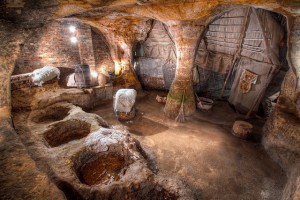 Visitors are now allowed to explore all of these intriguing caves since they have been made open to the public. The largest group is the City of Caves which is located underneath the Broad marsh Shopping Centre. It contains a number of wells, an air raid shelter example, a pub cellar by Sam Hancock, a Victorian slum, Drury Hill Street remains and the Piller Cave and Tannery. There are even audio tapes available from the visitor facility for anyone looking for self-guided tours. Guides are available for group visits too.